By NATALIA DUBINSKY – Celebrity Stylist and Beauty Connoisseur
Introduction
In the world of luxury niche perfumes, where exclusivity and opulence reign supreme, packaging is not merely a vessel but a masterpiece in itself. Every aspect, from the bottle design to the outer packaging, is carefully crafted to embody the essence of the fragrance it holds. Among the pioneers in this niche, Argos Fragrances stands out as a brand that redefines luxury perfume packaging, capturing the imagination of perfume connoisseurs worldwide. In this article, we delve into the allure of luxury niche perfume packaging and how Argos Fragrances has taken it to new heights, leaving an indelible mark in the industry.
The Art of Luxury Niche Perfume Packaging
Perfume, often referred to as liquid gold, has long been considered an art form. The bottle that houses this precious elixir is an integral part of the overall experience, offering a visual and tactile connection to the fragrance. Luxury niche perfumers understand the importance of creating a captivating first impression, and they do so with the utmost care.
Hand-Polished Bottles: Argos Fragrances elevates the art of luxury packaging with hand-polished bottles.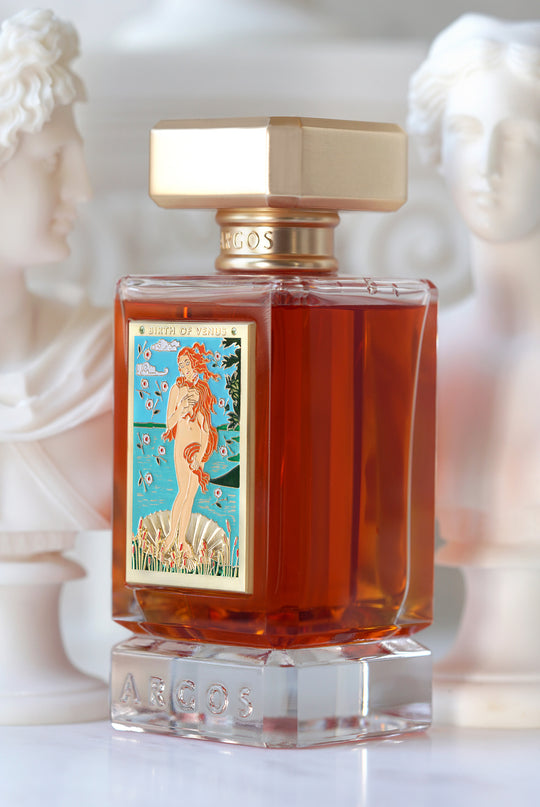 Each custom designed bottle is meticulously crafted to perfection, offering a mirror-like finish that not only reflects the light but also the essence of the fragrance within. The smoothness of the glass, polished to perfection, adds to the sensory experience, inviting you to explore the scent it holds.  I have spoken with the brand's representative and have been given a little inside information.  Look out for a newly designed bottle in 2024 with an opaque frosting effect.  I have seen the brands sample, and it is breathtakingly luxurious, and I can't wait to smell their upcoming releases.  This frosting glass effect with only be available on select fragrances and it will be available in 100ml and 30ml sizes.
Hand-Painted and Enameled 3D Metal Plates: Argos Fragrances takes personalization to the next level with hand-painted and enameled 3D metal plates. Each bottle has a work of art displayed on the front.  These 3d artwork plates are enameled by hand using special paints and applied with needles to the metal plate surface.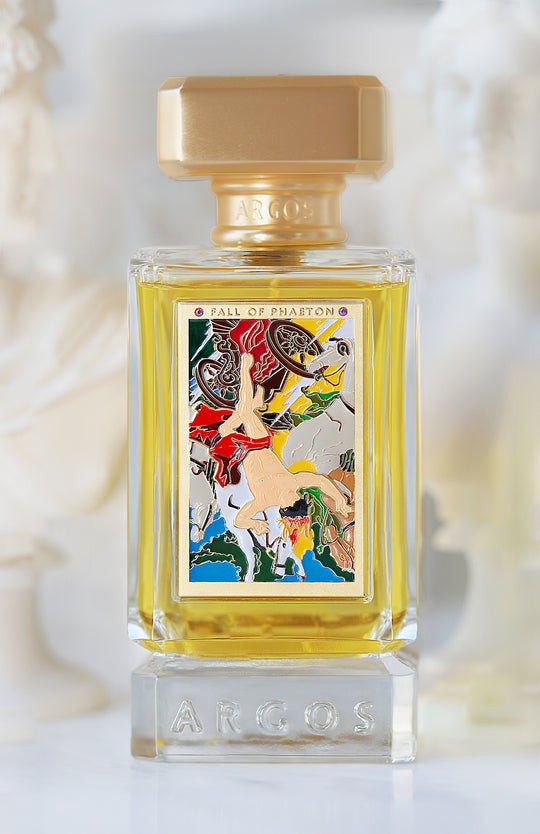 They are then backed in a kiln until they cure, and the paint is sealed.  These plates are then adorned with Swarovski crystals, turning each bottle into an opulent and unique work of art. This meticulous craftsmanship goes beyond branding; it's an expression of the brand's commitment to providing a personalized touch to each bottle, making it a truly exclusive possession.
Heavy Matte Golden Cap with Crystal: The crown jewel of an exquisite perfume bottle is its cap. Argos Fragrances' heavy matte golden cap, adorned with crystal, adds a touch of regal elegance to each bottle. I have not ever personally seen this color of matte gold and I was informed by the band representative that is just one of the many touches to elevate the customers experience as well as deter counterfeiters from attempting to copy the brand. This not only serves as a testament to the brand's dedication to luxury but also ensures that every time you open an Argos Fragrances bottle, it is a genuine moment of indulgence.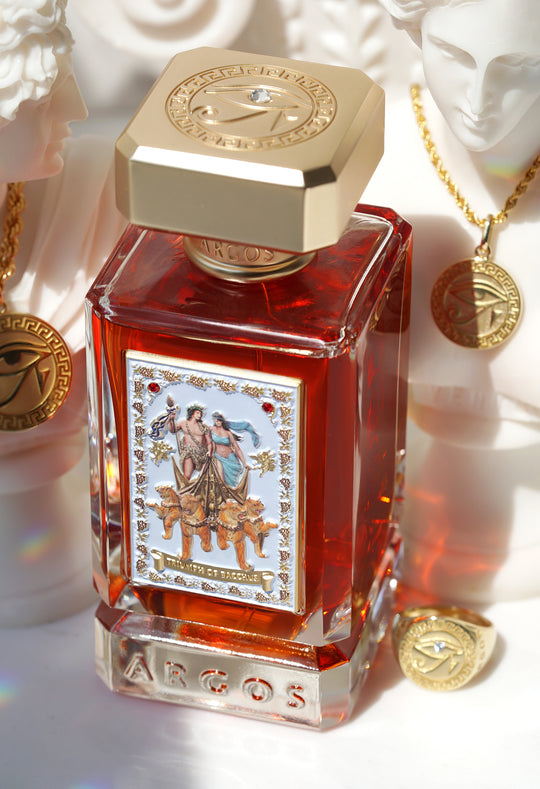 I have several bottles of Argos Fragrances and their newest releases come with pressure sensitive micro-atomization atomizers.  These allow for more control over your spray as well as less of the precious and expensive fragrance to get lost per spray.  Also, as an added bonus you can actually have a more olfactive experience, faster with the smaller fragrance particles your nose should be able to detect notes in the heart and the base of the fragrance right from the initial blast giving a more well-rounded experience as the fragrance was intended be experienced.  Connected to this amazing atomizer is a crystal diptube.  No, the tube is not actually made of crystal, but the amazing thing is that it disappears once the fragrance is sprayed for the 1st time and all the air from the tube is expelled.  No more unsightly plastic straw diptube.
Luxurious Leatherette Box with EVA Cut Foam: The packaging of Argos Fragrances is a sensory delight from the moment you lay eyes on it. Each bottle is carefully nestled in a luxurious leatherette box with custom-cut EVA foam inserts.
This ensures that the bottle is secured in place, preventing any mishandling or breakage, and enhancing the overall presentation. The EVA cut foam not only adds a layer of protection but also oozes elegance and precision.
Colorful Custom Artwork Boxes: Beyond the inner sanctum of the leatherette box, Argos Fragrances goes a step further with their colorful custom artwork boxes.
The outer packaging is as much a work of art as the bottle it contains. The attention to detail in the artwork and design reflects the same level of care and craftsmanship that goes into creating the fragrance itself.
The Argos Fragrances Luxury Fragrance Display Box
While the individual perfume bottles from Argos Fragrances are captivating in their own right, the brand takes the experience of fragrance collection and display to another level with their Luxury Fragrance Display Box. This showcase is not just a container; it is a testament to the art of living.
A Work of Art: The Argos Fragrances Luxury Fragrance Display Box is a work of art in itself. Crafted with the utmost attention to detail, it offers a discreet and precious presence that graces your living space. This is not merely a display; it's an embodiment of luxury, exclusivity, and artistry.
A Personal Olfactory Journey: With the capacity to accommodate up to 24 100 ml bottles and 6 30 ml bottles, this display box provides an opportunity to curate your scent journey.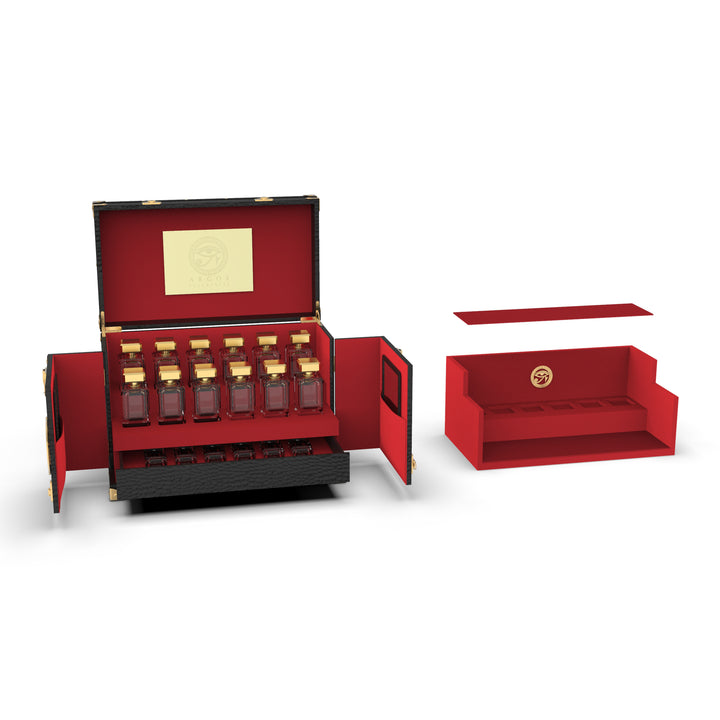 You have the freedom to choose between custom laser-cut EVA foam inserts or flat red velvet riser trays, allowing you to arrange your Argos Fragrance bottles in any configuration that suits your mood. It's a personal olfactory journey that reflects your individual sensibility and offers insights into your unique personality.
Elegance Beyond Compare: The Argos Fragrances Luxury Fragrance Display Box doesn't just blend in with your decor; it elevates it. Available in four subtle colors (pink, taupe, beige, or brown), the box seamlessly integrates with any environment. Its discreet refinement mirrors the distinctiveness and discernment of its owner, much like a self-portrait.
More Than a Display: This display box is not a mere showcase; it's an enchanting vessel that invites you to open, inhale, select, and perfume yourself. It transforms the act of selecting a fragrance into a moment of indulgence and self-expression. With this box, you infuse the world with your unique imprint, leaving an unforgettable fragrance trail.
A Testament to Haute Parfumerie: The Argos Fragrances Luxury Fragrance Display Box perfectly embodies the essence of Haute Parfumerie, where perfume transcends tradition to become an intimate and self-fulfilling journey. It's a statement of self-fulfillment and self-affirmation, echoing the brand owners, Mr. Christian Petrovich's vision of Haute Parfumerie Vivante.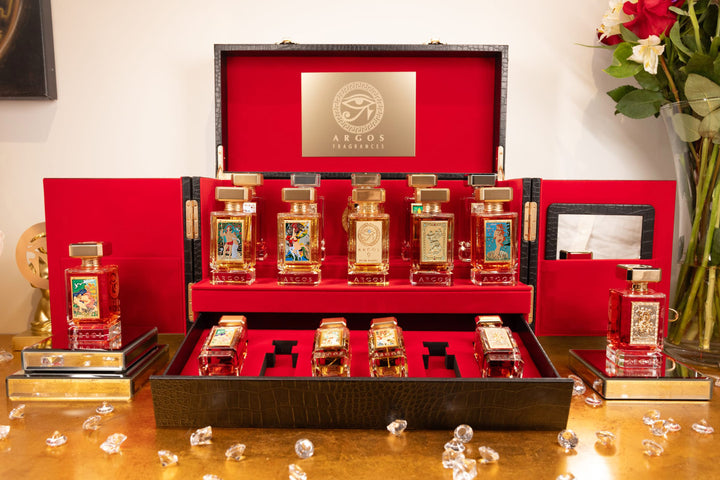 The Devil's In The Details
When I think of ultra-premium beauty products and the experiences that each brand prominently showcases to outshine their competitors and gain notoriety, it's the smaller details that often come to mind. These minute intricacies are what truly set each brand apart in significant ways. Argos Fragrances is a prime example of this.
As I gaze upon the exquisite outer packaging adorned with custom artwork, I find myself transported to a different realm. It evokes emotions and feelings that are difficult to put into words but feel instinctive and deeply ingrained in my very being. It's almost as if there's a magical force connecting me to each of these majestic creations, as if I had lived within the legendary stories that each Argos fragrance aims to recreate in a previous lifetime.
Furthermore, it's the little, seemingly insignificant details that catch my attention. When my order of the three new releases arrived, I made the decision to choose paid gift wrapping for one of the bottles while leaving the other two unadorned. I also opted for custom engraving with my name on each bottle. I wanted to fully experience the process on my own terms, without reaching out to the brand for special treatment, to offer a genuine assessment of not only the three new releases but also to understand what any customer might expect when purchasing from Argos Fragrances.
The results were nothing short of exceptional. Opening my package felt akin to a child's excitement on Christmas morning. The paid gift-wrapped bottle was beautifully enveloped in thick, opulent golden paper featuring the brand's logo and name in a monochromatic gold. A satin golden branded ribbon and bow held the entire presentation together, making it a sight to behold. To my surprise, the other two bottles were also elegantly gift-wrapped in branded Argos paper, each secured with a delicate ribbon and sealed with Argos wax. I decided to keep these wax seals and ribbons as keepsakes.
Additionally, I received an elegant thank-you card bearing the brand's exquisite golden logo and name, embossed onto the card and personally signed by the brand's owner. It's challenging to convey the emotions these small details stirred within me even before I unveiled the treasures inside, but they undeniably set the stage for an extraordinary experience.
With the holiday season approaching, I plan to gift several Argos fragrances to my family and friends. These fragrances make the perfect gifts for loved ones, and I am confident that they will be deeply impressed and appreciative of these thoughtfully crafted treasures.
Conclusion
Argos Fragrances is at the forefront of the luxury niche perfume market, redefining the art of fragrance packaging. With their hand-polished bottles, hand-painted and enameled 3D metal plates adorned with Swarovski crystals, heavy matte golden caps, luxurious leatherette boxes with EVA cut foam, and colorful custom artwork boxes, they have set a new standard for luxury and exclusivity in the world of fragrances.
Every element of their packaging is a testament to their commitment to offering a personalized and opulent experience. Their Luxury Fragrance Display Box takes this commitment a step further, providing a platform for fragrance enthusiasts to curate their personal olfactory journey in a manner that reflects their individual sensibility and personality.
Argos Fragrances isn't just selling perfumes; they're selling an experience, an indulgence, and a form of self-expression. Their packaging doesn't merely house fragrances; it elevates them to works of art that capture the essence of the person who wears them. In a world of luxury niche perfumes, Argos Fragrances has not only arrived; they're leading the way with their commitment to crafting not just perfumes but true olfactory masterpieces. If you seek an experience that transcends traditional fragrance, Argos Fragrances is your destination, where luxury meets artistry in the most elegant and captivating way.